LIP AUGMENTATION AND FACIAL REJUVENATION
In recent years, the Dental Estetic Studio dental clinic in Zagreb has been performing lip augmentation and facial rejuvenation, i.e. anti-aging medicine as part of the smile makeover in order to give a face a new, better appearance and refresh the contours of the lower face.
All of this is performed so that we can, in addition to dental procedure, rejuvenate parts of a face while maintaining maximum natural appearance of a face with the finest and most natural products. Such procedures are common at dental clinics around the world, and thanks to their precision and expertise, the doctors of dental medicine will perform the procedures of the lower face in accordance with the teeth, smile and other extremely important factors.
EXPERTISE
Anti-aging procedures, such as lip augmentation with hyaluronic fillers, have been performed for many years by dr. Knego who was trained for them in London. Rejuvenation with fillers and threats, as well as facelift in our dental clinic is also performed by a well-known doctor, doc. dr. Ljiljana Hlupić dr.med. who has many years of experience in anti-aging medicine who has completed numerous education around the world, including anti-aging academy in Paris, as well as education obtained from the American Academy of Anti-Aging Medicine.
PROCEDURES ARE PERFORMED WITH:
HYALURONIC FILLERS that return moisture to the skin are fully biocompatible as the hyaluronic acid is part of the basic skin ingredient – collagen. These fillers are used for various facial regions, neck and cleavage, for filling small and heavy wrinkles and furrows, as well as for increasing volume of lips, cheeks, etc., by applying it under the skin. In addition to being natural, hyaluronic fillers can fill out wrinkles, rejuvenate, and enhance lips, and their application under the skin has a permanent effect on the rejuvenation process as it stimulates the production of collagen that provides skin moisture. Women who have tried hyaluronic fillers absolutely confirm that there is no facial cream in the world that could achieve rejuvenation to such extent and be so natural. The importance of the type of filler that is being used: Dental Estetic Studio dental clinic performs lip augmentation and skin rejuvenation mostly with Juvederm fillers due to their extremely high quality and slow absorption. It lasts about two years and it never completely disappears. It also contains an anesthetic so the application does not hurt.
That is used in medicine not only to stop aging, but also for other medicinal purposes, so it is also used for Gummy smile correction, when during smiling upper lip raises too much and exposes gums. Application in the areas where we want to stop aging is performed professionally so that we do not completely remove facial expressions and that the patient does not have to repeat the procedure often.
THREADS FOR FACE LIFT WITH WILLERS RICH WITH GROWTH FACTOR FROM PATIENT'S OWN PLASMA
The clinic uses centrifuge when performing this procedure, which creates the filler from own blood, applies it under the skin and extremely rejuvenates and flattens wrinkles.
MAIN PROCEDURES:
Lip augmentation with hyaluronic fillers so that they are lightly increased or just rejuvenated. Lip rejuvenation is performed in a way that we just restore the edge of the lips, interleave the lips with the filler in order to return the natural, youthful fullness that the patient used to have. Lip augmentation can be done so it looks completely natural and will last as long as you would like it.
Filling of nasolabial folds with special technique by contouring the face while making sure that the procedure does not lead to so-called "fat face", i.e. apparent fat look of the face. By filling them, the face will look much younger and natural at the same time.
Raising the corners of the lips is achieved by raising the bite with adequate prosthetic procedures on teeth and placing the fillers in the zone below the lip, and sometimes even with moderate face lift with a special filler.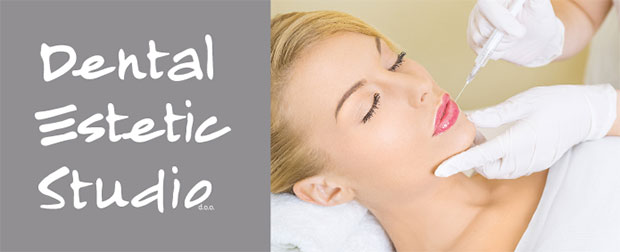 Fillers based on hyaluronic acid can correct facial wrinkles, particularly those around the lips and lips augmentation. Hyaluronic acid is an integral part of our subcutaneous and injection of such fillers in form of a gel can naturally achieve:
that there are no wrinkles, filling of wrinkles
that the lips are rejuvenated, i.e. that the lips are full again just like when being young
equalize the upper and lower lip if there is asymmetry in the size or shape
or actually naturally increase the lips if wanted.
Hyaluronic filler on the lips will never look like silicone; its look is completely natural and does not run. Women's lips with age shrink and "dry out", and this type of fillers is ideal way to return the freshness into lips and fill out deep wrinkles and the lips. This type of treatment is often a normal part of "smile makeover" all over the world, so dr. Knego has trained for this type of work with most famous fillers Restylane and Juvederm.