With the loss of teeth, the patients often wonder how they will replace them. When they decide to replace missing teeth with implants it is important that this procedure will not hurt them. With the usage of implants, there is no need for preparation of healthy teeth, as it is necessary for the prosthetic bridge.
-In order to enable our patients with PAINLESS, but most of all, PRECISE and SAFE implantation, our clinic has introduced the LATEST 3D IMPLANTOLOGY- MGUIDE system.
-Mis implants is a global company that manufactures, designs, develops and markets leading dental implants, external upgrades, solutions for complete oral rehabilitation, and this is how they developed 3D IMPLANTOLOGY – MGUIDE system. Due to their innovative development, Mis implants are used in the best clinics worldwide.
MGUIDE implantation is implantation through jaw and jigs CT, and is actually placement of implants without an OPERATIVE PROCEDURE, SUTURES, BLOOD AND WITHOUT PAIN AND SWELLING AFTER THE PROCEDURE.
3D implants, or computer-guided implantology as it is called, is something that the Dental Esthetic Studio team has been performing for more than 5 years, and more recently with Mis implants and their latest MGUIDE system.
How it works: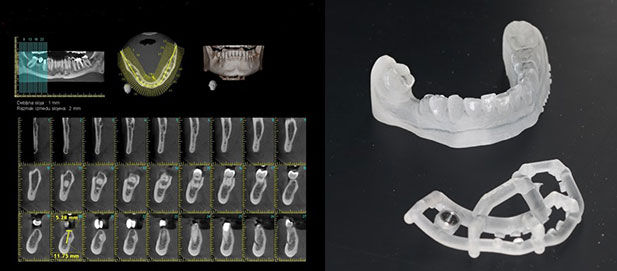 – All we need before the procedure is the CT scan of the patient and the patient's arrival for the scan. CT is a three-dimensional image of the jaw with which we get a very precise visualization of dental structures where we can EXACTLY SEE THE BONE thickness, height, density and anatomical structures. Thus, with the help of a special computer program we can accurately place implants, which would be the ideal size in relation to the bone and ideally positioned as well.
-Scan and CT data is sent to the Mis implant company, which uses computer for ideal planning of the implant position, and prints patient's model and template for implantation.
-When the patient comes for the implant, a template is placed in the mouth and the implant is installed directly through the implant. Of course, all of this is possible only if the patient has a sufficient thickness and bone height, and if he does not, it is necessary to replace it, which is performed very successfully today.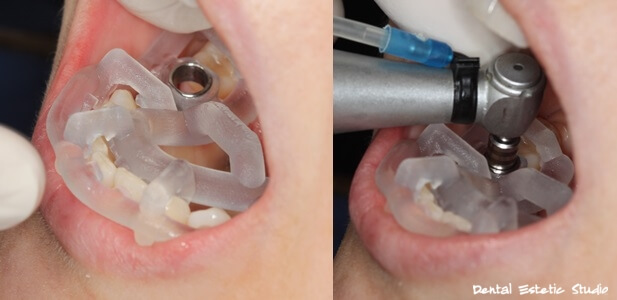 Scanning of the situation in the mouth and model and template printing allows tremendously high accuracy of this procedure, i.e. implant placement without the surgical procedure, therefore this type of implant presents a great future in implantology.
-Patients are extremely satisfied with this implant placement technique because:
1. THERE IS NO PAIN
2. QUICK IMPLANT PROCESS
3. PERFECT PRECISION OF AN IMPLANT CONSIDERING THE ANATOMICAL STRUCTURE
4. MAXIMUM USAGE OF AVAILABLE BONE
5. NO CUTS, SUTURES OR SWELLING
6. NEARBY TEETH ARE NOT TOUCHED